How to Book a Private Escape Room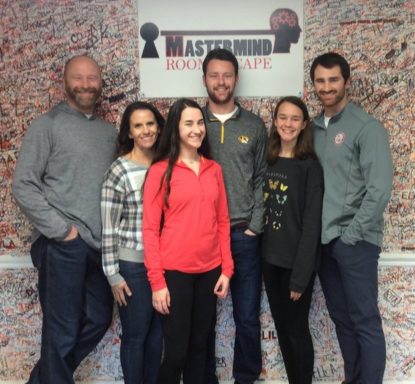 Due to the times, all of our rooms are currently private.
**For our high-demand holiday rooms (Elf Escape and Home Alone), there is a minimum initial purchase of at least 4 spots (even if it is only 2-3 people playing, this is the minimum payment needed to reserve those rooms). When booking, click the "book entire game" box. This will ensure only your group is in the game. If you want to add more people to your private game after your initial booking of at least 4, please call us and we will get your other players added.**
Besides All Private Rooms, We Have Also Implemented These Procedures:
1.  All rooms are sanitized after each game
2. All employees are wearing masks when interacting with customers

3. Hand sanitizer is available for players

4. We have expanded our lobby/waiting spaces to allow different playing groups to social distance from other playing groups.
5. We have spaced out our schedule for less overlap of people in the lobby
How to Book a Private Game:
To book a private room, you have two options:

 (The fastest and easiest option that you can do anytime) Find out your total number of players and make one booking selecting the "book entire game" option (see below for step-by-step instructions). This will block that game/time off from other everyone else. Then, if you decide to add more players, you can call us and add them on.
Tell your group to go book their tickets and then you can call us to block it off once all are booked. Note: Until the game is blocked off, other groups could book it. So you'll want to get everyone to book quickly and call us so we can block off the rest of the spots in the room for your private game.  And, if you want to add more people after we have blocked it off, you can you can call to add them.

Obviously, if you are feeling any symptoms or running a fever, do NOT come in to play. We'll be here when you're feeling better.
Using The "Book Entire Game" Option Button on The Website:
On the booking page, select the number of players/participants that will be playing with you and click on the "book entire game" option on the pop-up that comes up when you click on "book".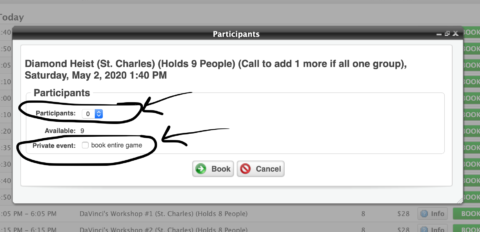 Then hit "book", proceed to checkout, and enter your promo code (see at top of the page) to apply your savings. Easy peasy! This will block the room off from anyone else and get you your discount! We can't wait to see you!