Holiday pricing calendar is below. Christmas rooms are $35 per person with different minimum requirements on different dates. Holiday room Super Saver Days now available.
As we enter the busiest time of year for our family's business and are keeping our rooms private, we have created a calendar to reflect the changing minimum initial purchase for our rooms for each date. Pricing is separated between non-holiday and holiday-themed rooms. You can see the calendar below for pricing and minimum requirements for each date.
How Pricing Works with Minimums: When looking at the booking grid page, you may see amounts like $160 or $210 next to a game time instead of the normal pricing per person. Those larger amounts are the cost to book the minimum number of players required to privatize that room. So, for example, if you are booking an Elf Escape room on November 26th, the cost shown on the booking page will be $210, the cost of 6 people (the minimum required to privatize the room) at $35 each. Therefore, if you book 1- 6 people, $210 (plus tax) will be your cost. If you add any more than the minimum required (6 in this case), it will add on $35 for each additional person.
Private Rooms + Adding More Players After Minimum: All rooms are private (your group only). If you want to add more people after you make the minimum initial booking, come to the front desk as soon as you arrive to add them on. You can see some private room booking info and FAQ here: Booking a Private Room
Super Saver Days (St. Charles Only): We're trying Holiday Room Super Saver Days for the 1st 3 Mondays in December. We're doing this for those who may want to play with a smaller group and those wanting a more budget-friendly option. On these Mondays, the holiday rooms will only be $29 per person and only a 4 person minimum. You can see this pricing reflected on the booking page for those Mondays. Only a select number of games available so book your spot now.
Thank you for your support of our small business as we navigate the cost to keep rooms private, pay our staff, and run our sites! We are grateful for you!
Click Here to Download and Print the Holiday Time Pricing Calendar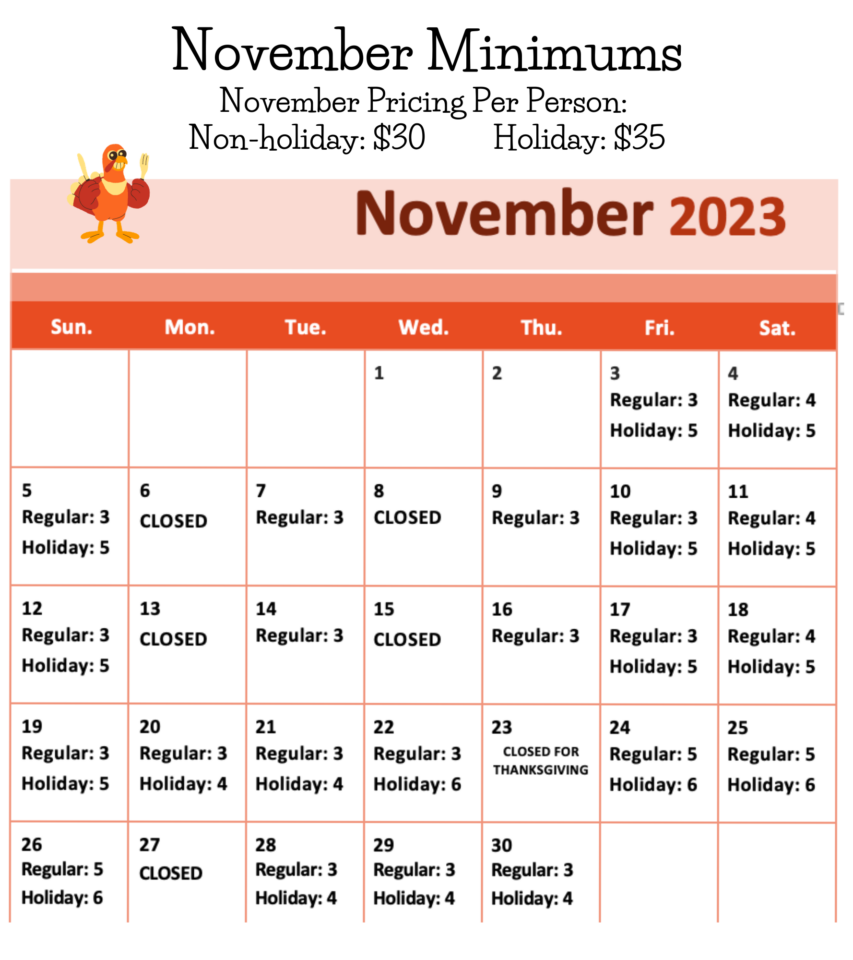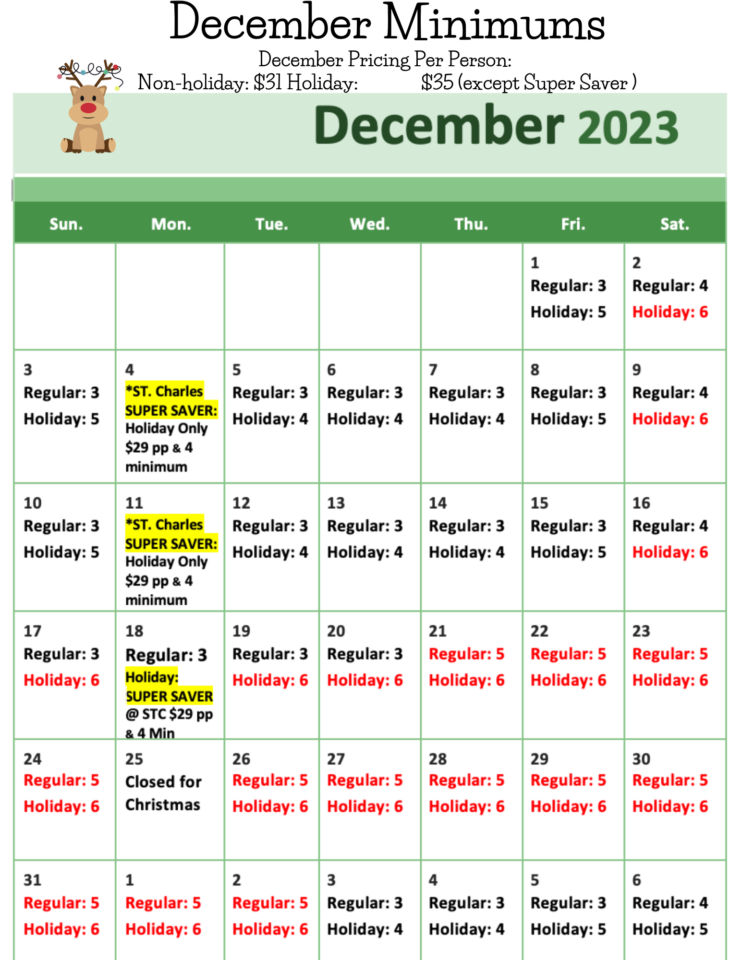 Click Here to Download and Print the Holiday Time Pricing Calendar
**Holiday Rooms Will be Open Through 3rd weekend in January in St. Louis and until end of February in St. Charles **
For Remainder of January: All non-holiday rooms are $30 with a 3 person minimum Sun-Fri and 4 person minimum on Saturday. Holiday rooms are $35 with a 4 person minimum Mon-Thur and 5 person minimum Fri-Sun