Mar 08, 2019
Are you planning to be in the St. Louis area for spring break? The Gateway City is a hub of interesting and fun activities for everyone on spring break in the midwest.
Whether you're coming home or just visiting on vacation, we've lined up a short list of must-dos. Our St. Louis spring break list focuses on things to do for college-aged students.
Escape Room
Escape a room at Mastermind Room Escape in downtown St. Louis or St. Charles. That's us! Enjoy an interactive room with your friends and family in all weather.
We're the #1 Escape Room on TripAdvisor.
Have Fun With Your Entire Family
#1 Imagination Pottery
Imagination Pottery is a paint your own pottery joint. Plus, they offer hand clay building by appointment.  They are a family owned and operated St. Louis business just like Mastermind Room Escape. They have fun and unusual pieces to choose to paint.
You can paint pottery with a group and schedule a party of just walk-in. Either way, we think you'll have fun at this Wentzville business.
#2 18 North Central
18 North Central's tagline is "where grown-up come to play with family and friends." It's a great place for college friends to meet in St. Louis to have fun and grab a bite to eat. It's also good for families with older children and adventurous parents to go for an outing together.
Depending on the timing of your Spring Break, you might be able to participate in one of their fun events like the "Zombie Week."
Out and About With Friends
At Mastermind Room Escape we serve groups of friends and families looking for a fun and interactive activity. Some people come just to escape the room. Some groups make a day of it and eat at a nearby restaurant like the ones listed below. Reserve your escape room today!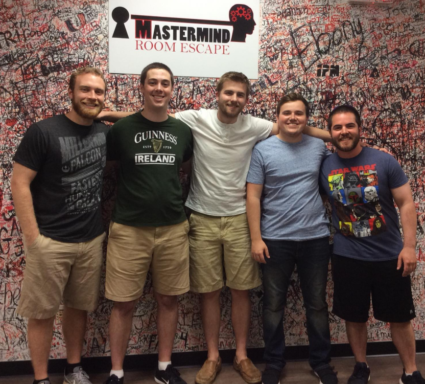 18+ Crowd - Trivia
Trivia is extremely popular in the St. Louis area. You can find trivia somewhere most nights of the week.
Instead of just one location to play trivia we recommend checking out Trivianights.net. This site helps you find trivia nights being held as fundraisers for local community benefit groups.
We like this type of trivia because it's fun and helps the community! Bring snacks, your friends and family and join in on a big trivia fundraiser night.
18+ & 21+ Crowd - Casinos
There are over a dozen casinos in the greater St. Louis area. Casinos offer restaurants, games and other live entertainment. There are poker tourneys and many more games to plays. But more important is the live music! Entertainment options vary depending on the venue.
To start, you will want to check out the entertainment options at Hollywood Casino in St. Louis. Additionally, several casinos have night clubs offering a late night option for friends' night out.
But remember, you don't have to be 21 to take in the spa, Hi-Vi Arcade or live music at Ameristar Casino Resort and Spa in St. Charles.
21+ Crowd - Fast Eddies
Fast Eddies is about 30 minutes away from downtown St. Louis. It's worth the short drive to meet friends for a night out because of the live music.
Fast Eddies is a late night music venue for people age 21+. Check out who's playing and add a lively night out to your list of spring break adventures.
Eat Out With Family & Friends
At Mastermind Room Escape we love escaping the room and then grabbing a bite to eat, so we're experts in this area. Here are four of our St. Louis area favorites restaurants.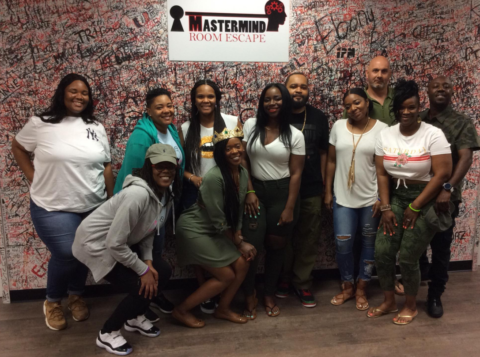 #1 Sugar Fire in St. Louis
Chef/Owner Mike Johnson seems to love reinventing barbecue that makes our tummies happy. He's pulled together an amazing team of people at several restaurants throughout the area but our fav is Sugar Fire in downtown St. Louis.
This casual smokehouse is home to the 2018 World Food Championship Sandwich the Cuban Reuben by Chef Dave Molina. They also serve pies from Sugar Fire Pie in Olivette.
#2 Pi Pizzeria
A little more expensive than Freddy's because it's a totally different dining experience. Pi Pizzeria MX Downtown STL is the best spot for pizza and a craft beer.
You can choose a deep dish or thin crust or there are gluten-free options. Lots of toppings and apps are on offer. You can even escape a room at Mastermind and walk 5 minutes to Pi.
Enjoy Spring Break in St. Louis
The St. Louis area offers plenty of options to enjoy spring break. Whether you escape a room at Mastermind Room Escape, grab a bite to eat or enjoy time with family and friends, we're proud to live and work here and we hope you have fun!
---